---
PROFILE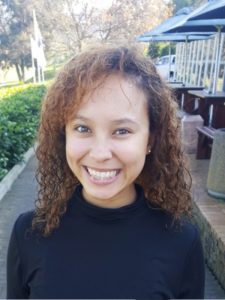 Sarah Jane Seale grew up in Strandfontein Village in the city of Cape Town, South Africa. She currently holds a Bachelor Degree of Theology and is pursuing an Honours Degree in English at the University of the Western Cape. Sarah enrolled in the Creative Writing elective this year and became a participant of the Taking Liberties project through her involvement and interest in writing creatively. She is interested in writing Children's and young adolescent's literature and desires to positively impact the youth, of South Africa particularly, with her poems and short stories.
---
CREATIVE WORK
My grandmother smells of patience
My grandmother smells of patience.
When I come home from school,
she is sitting on our front stoep,
waiting.
She is waiting for rain.
Rain that hasn't fallen in months.
She is waiting for something
that won't come
anytime soon.
She waits for the time when
she'll get to go home.
"Not here, Sarah, this is your home.
But there, where your grandpa is."
She is waiting for my grandpa.
Someone who was kidnapped by angels.
She is waiting for someone
she won't see
anytime soon.
She will keep waiting,
and waiting.
Sitting on our front stoep.
Smelling of patience.
An Incident in the Life of Anna May Hugh
Anna May Hugh woke up at two.
A.M.
Anna May Hugh then went to the loo.
There she vomited up black bile.
Anna May Hugh was then rushed to you.
Then she was admitted to Tygerberg Hospital.
Anna May Hugh was at the hospital from half past two.
There she waited. And she waited.
Anna May Hugh didn't know what to do.
Whatever she took in came right out.
Anna May Hugh wanted to see you, Dr Le Roux.
But you were busy. Too busy!
Anna May Hugh was dehydrated and blue.
But nobody asked her if she was okay. Or if she was thirsty.
Anna May Hugh was weak, it's true.
But others were sicker and they were seen to quicker.
Anna May Hugh was finally seen to.
Thirteen hours later. Four buckets of bile later.
Anna May Hugh saw Dr Le Roux.
She cried from exhaustion. And then she cried fromnfusion.
Dr Le Roux, you saw Anna May Hugh.
And you saw her again. And again. And again.
Anna May Hugh hated Dr Le Roux.
She cried from anger. And then she cried from helplessness.
Anna May Hugh took off her gown and her shoe.
She hated her expressionless reflection in the mirror.
Dr Le Roux was the man that the dead girl sued.
While Anna May Hugh was the girl who pulled through.
The Red Lady
I saw a red hat and red shoes on a Red Lady walking in the red sun.
I saw a white bag and a white watch on the Red Lady walking to her white house.
A Blue me approached the Red Lady in the black street.
The Blue me spoke to the Red Lady and asked her: "What do you carry in your white bag?"
The Red Lady smiled. This was the colourful contents of her colourless bag:
"My late husband's silver anchor from the red boat he used to love.
My niece, Clara's, pink ribbon from her birthday outfit which I never saw.
My black and white piano miniature in place of the one I never listened to.
My collection of gold game tokens from all the nights I never played.
My glass of red wine I never ordered at Lorenzo's.
My garden of dead chrysanthemums that I never watered.
A blue jar of stars I am saving for the night I get to star-gaze.
And a picture of you, little girl, to remind me to save a piece of me for you."
---
REFLECTION
Taking part in the Taking Liberties project was really an experience of growth for me and my writing. It afforded me the opportunity to explore the idea of freedom in a way that I had never previously done. A democratic South Africa was only three years old when I was born and the after effects of Apartheid surrounded everything and everyone I knew. My mother was a key figure in explaining the richness of our tragic histories and shared stories with me about her mother. My coloured grandmother once gave birth to a beautiful white-looking son whom she named Edgar, and at the same time he was born another black-looking baby was entering the world whose name would also be Edgar. The negligence of the hospital staff under the Apartheid government resulted in my grandmother taking home the baby she knew wasn't hers. Three months later her son was returned to her. My mother and her mother waited and waited, not only for Edgar, but for change. For things to be mended in their homes and in homes everywhere, and for South Africa to become one. My grandmother never lived to experience the freedom she had always longed for. These poems are written in memory of her, and to remind myself that I can never take my freedoms for granted.